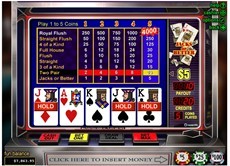 Jacks or Better video poker is one of America's favorite video poker games. This is without a doubt the most popular game that is played without a wild card.
The main goal in this game is to get a pair of Jacks or higher. If you get a pair or Jacks-Aces you will break even on the hand. When you get two pair you will win double the amount you bet. Jacks or Better is a fairly simple video poker game and thus can be played by just about anyone.
The best online casino to play Jacks or Better is Rushmore Casino. You can win up to 4,000 credits on a single hand by getting a Royal Flush. They also allow you to play up to 100 hands of Jacks or Better simutaineously. That means you can win up to $400,000 in one game. You can play anywhere between $.01 to $5.00 a hand if you are playing only one hand. If you like playing multiple hands at once you have a few options. You can either play 1, 3, 10, 52 or 100 hands.