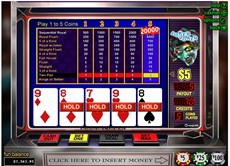 Joker Poker is basically five card draw with jokers wild. This is a very popular and easy game to play. You must get a pair of kings or higher in order to receive a payout.
The winning combinations in the game are similar to five card draw. The joker has no actual value but it just takes place of whatever card you need to improve your hand. For example if you have a 8-8-10-10-Joker, this will automatically become a full house.
You can bet up to five coins at one time. The minimum bet is .01 cents and the maximum bet is $500. The joker also makes it possible for you to obtain 5 of a kind. Five of a kind is valued right between a royal flush and straight. The game will automatically assign the joker to where it would give you the most advantage. In this game you can play up to 100 hands. The best casino to play this game online would be Rushmore casino.