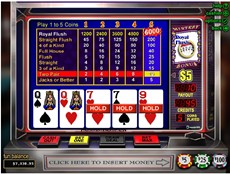 This is another of many versions of video poker. This game gives the feeling of playing a slot machine as well as video poker itself. In Mystery Video Poker, your goal is to go for the best regular hand or you can choose the mystery bonus.
The slot machine feeling comes from the mystery "reel" that spins when you start the dealing of the cards. When you start to deal, the spinning reel will spin and land on a specific winning hand in the game, lets say, full house, perhaps. After this happens you will notice that the value of the full house on the pay table will increase. Hence the name of the game, Mystery Video Poker, you never know what hand the reel will land on thus giving it a mysterious feeling for the added amusement in the game.
The rest of the game is pretty simple. A standard 52-card deck is used because there are no wilds in this game. As stated in the above paragraphs, your goal is to get the best winning hand, or you can also choose to go for the mystery bonus. If you get the mystery bonus hand, your winnings will increase. You are able to bet with several different denominations and for fun or cash.
It easy to learn, simple to play, and fun for all!
Play Mystery Bonus Video Poker