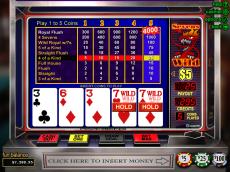 Sevens Wild video poker is a very simple game to play. It's the basic five card draw with sevens as wild. This game is played by many in online casino sites.

You can play either one hand or multi-hand wagers. The denominations for 1-hand sevens wild range from $.05 up to $5.00. You can also play anywhere from 1-5 coins per hand. Now in the multi-hand game the betting is as follows, $.01 to $1.00. There are five increments of betting in each game with the same 1-5 coins that are able to be played. You are also able to play 3, 10, 52, or 100 hands.

Sevens wild offers a few more payouts which are four 7's and royal with sevens. Just the same as regular five card draw the royal flush is the highest payout. The return is as long as you get three of a kind or better.

The main point of this game is to get the highest hand possible using the cards you have at the end of the draw. Using the sevens to take place of any card you need to better your hand. In this game you can also use the double or nothing bonus round. You can use this to win by drawing a card that is higher than the dealers and winning double your money.
Play Sevens Wild Video Poker Now